Discover easy ways to organize your greeting cards for a more relaxed, organized holiday. Check out a few of my favorite greeting card organizers.
Greeting card organization is easy to overlook and not something we may think about in terms of organizing our items. I confess, I haven't always keep my greeting cards neatly stacked in a box. Instead, I would make a mad dash to the store to pick up greeting cards for those last minute party invites.
I recall just a few weeks ago my son said he had a birthday party to attend the next day. Seriously, don't you just love those last minute party invites? I breathed a sigh of relief, I knew I was prepared this time.
Purchasing individual cards are not exactly cheap either, unless you go to the Dollar Store. But, we can be prepared for unexpected events and also save money by keeping an assortment of cards on hand in an organized box.
Since organizing my stash of cards it's been been a breeze getting ready for holidays, birthdays, and other celebrations. If you get your stash of cards organized, you will understand what I mean.  Now, you just need to decide on which card system fits with your personal style and needs.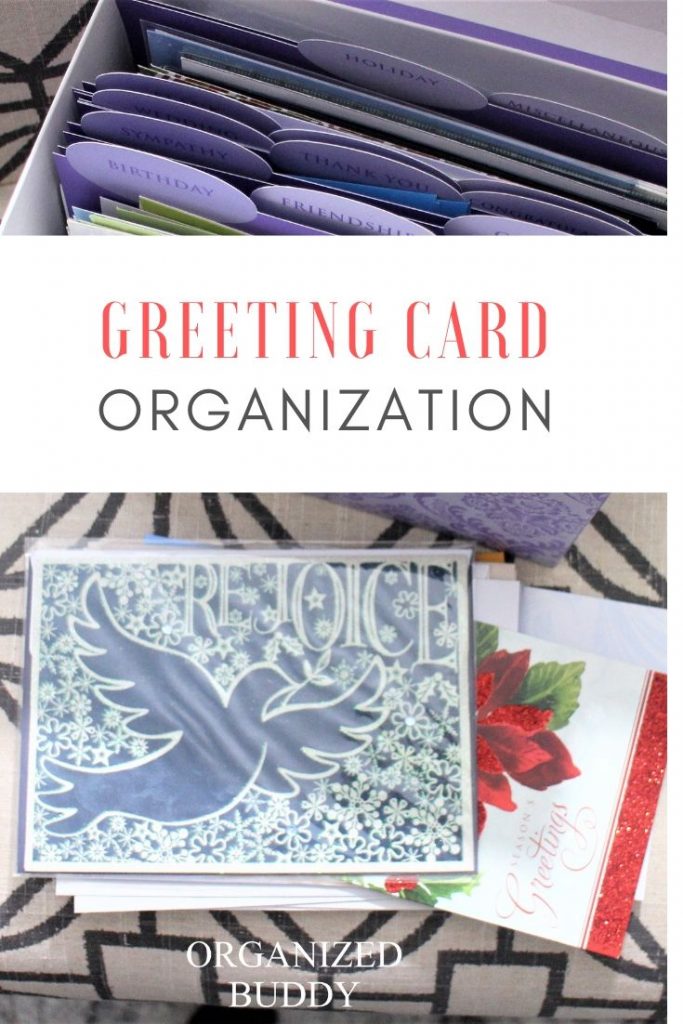 THE FANCY BOX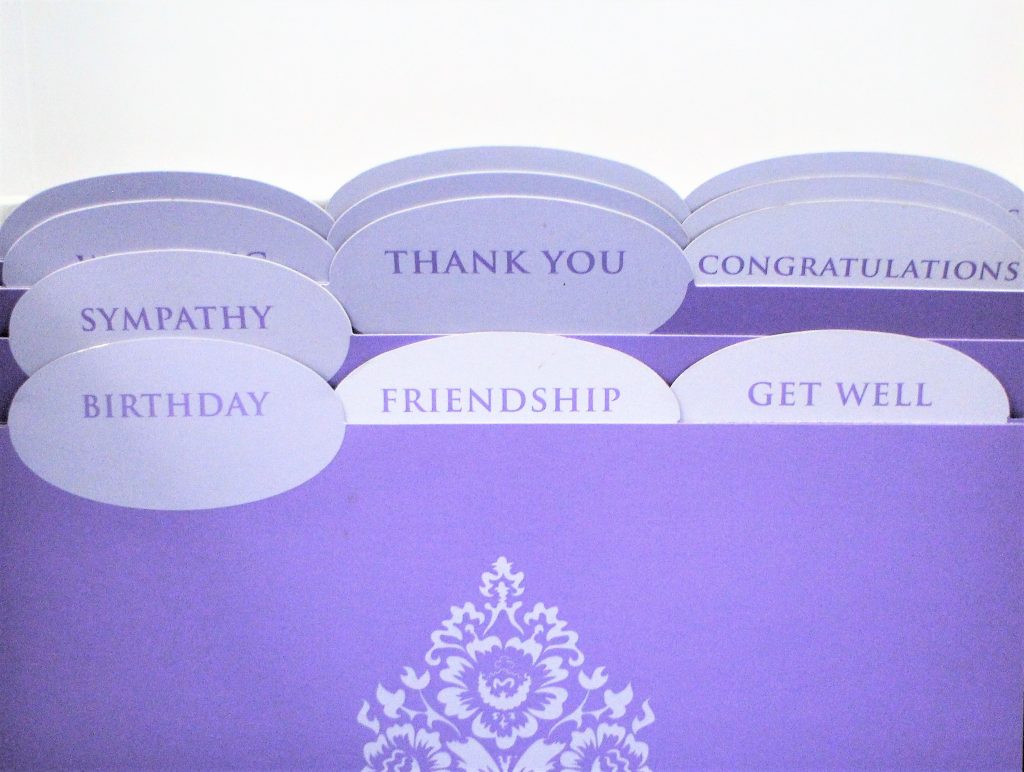 I've searched all over the internet looking for greeting card organizers. I finally decided on this designer greeting card box to keep my stash of cards in for easy access.  I'm able to quickly find the exact card I need for each occasion. This box can also be used to keep special cards you've received to save for sentimental reasons.  I also keep stamps here for easy access. I use my fancy box to store a variety of handmade keepsake vintage cards along with decorative stickers.
THE SIMPLE DIY BOX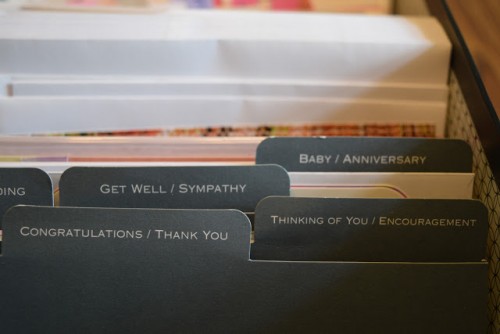 If fancy is not your thing, you can use a photo box or find a box and make dividers for the different categories of cards. ( For Example: birthday, Christmas, get well, thank you, etc.)  You can make dividers using card-stock and labels. You can use pretty dividers if you don't want to make your own.
THE CREATIVE DIY BOX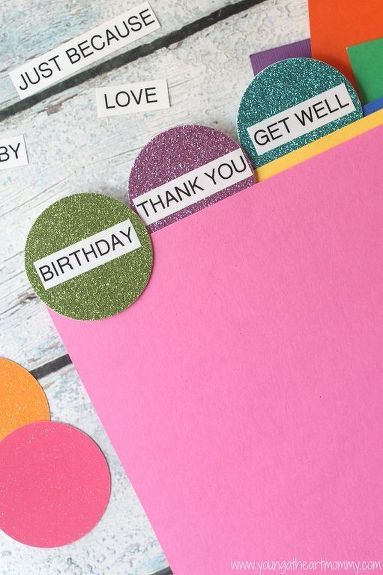 Create something colorful that fits your own style by choosing your favorite colors and style of box to hold your cards.  You can use a label maker to write the different categories.  (I recommend these erasable pens for writing messages on your greeting cards!) Check out Hometalk.com for this DIY project.
**TIP:  When picking out a box, keep in mind that it needs to be tall enough and wide enough to accommodate the widths and heights of the cards.
CLEAR CARD KEEPER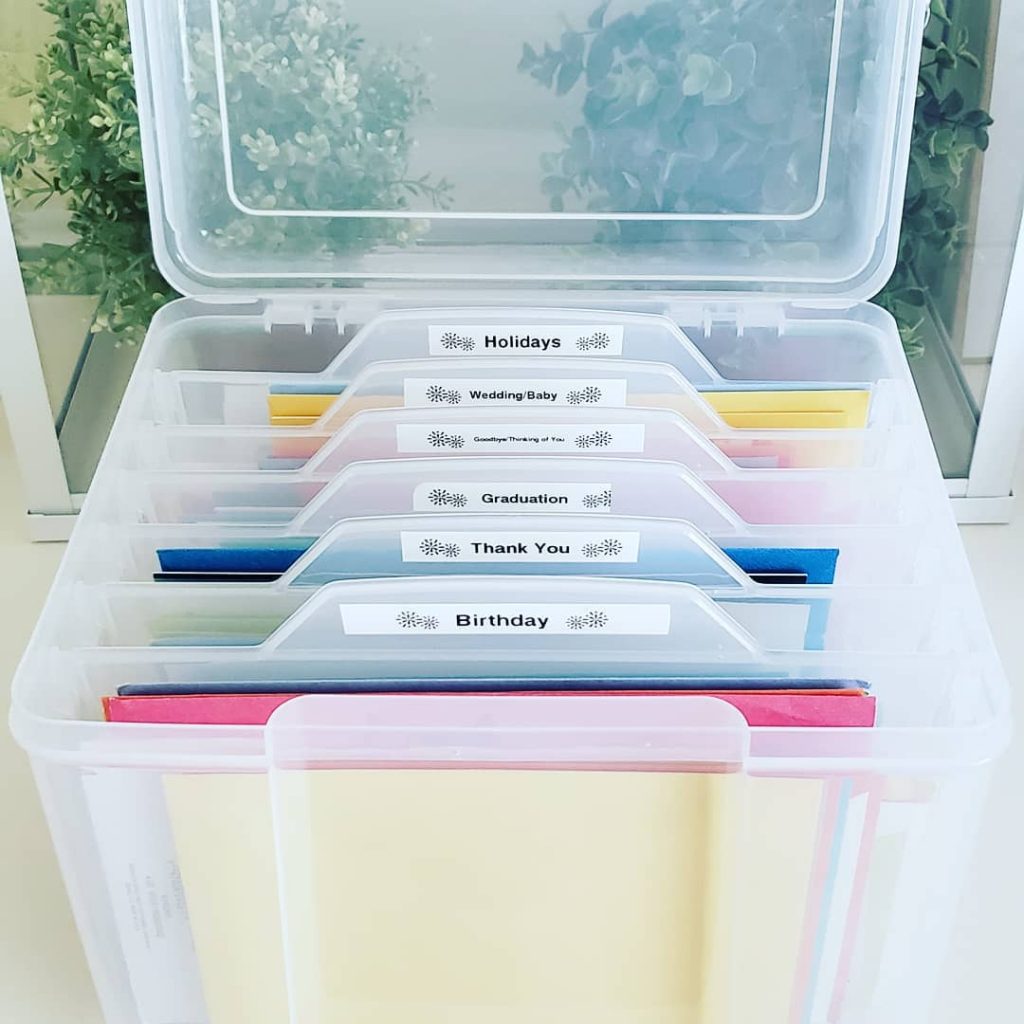 If you are looking for a card organizer that is adjustable, has tabbed dividers, so you can organize your cards by occasion, or year using your own labels, this may be just the right box for you. You can find the Clear Card Keeper at  The Container Store.
Experiment and implement a system that works for you.  Organization is about creating systems that fit your life.
If you try one of these, or have a system that works for you, reach out to me, I'd love to see and share!