Do you love a bit of drama? These black painted furniture ideas will have you inspired to update your old furniture!
Do you have old outdated furniture that needs serious help? People are usually reluctant to display their grandmother's outdated furniture, but their forms are lovely and remain timeless.
Black is famously versatile, eternally fashionable, and makes any room feel more modern.  If you are looking for contrast, drama, or depth in a room, black painted furniture may be the solution.
Use Black Furniture to Contrast with White Walls
Not thrilled with plain white walls?  Consider using black furniture instead. A simple black nightstand, bed frame, or other black decor breaks up the monotony by creating bold outlines that lead the eye around the room.
Take a peek at these black painted furniture forms. Be prepared, once you start painting old furniture, friends and family will start donating their old furniture to you to revamp!
Charming & Chic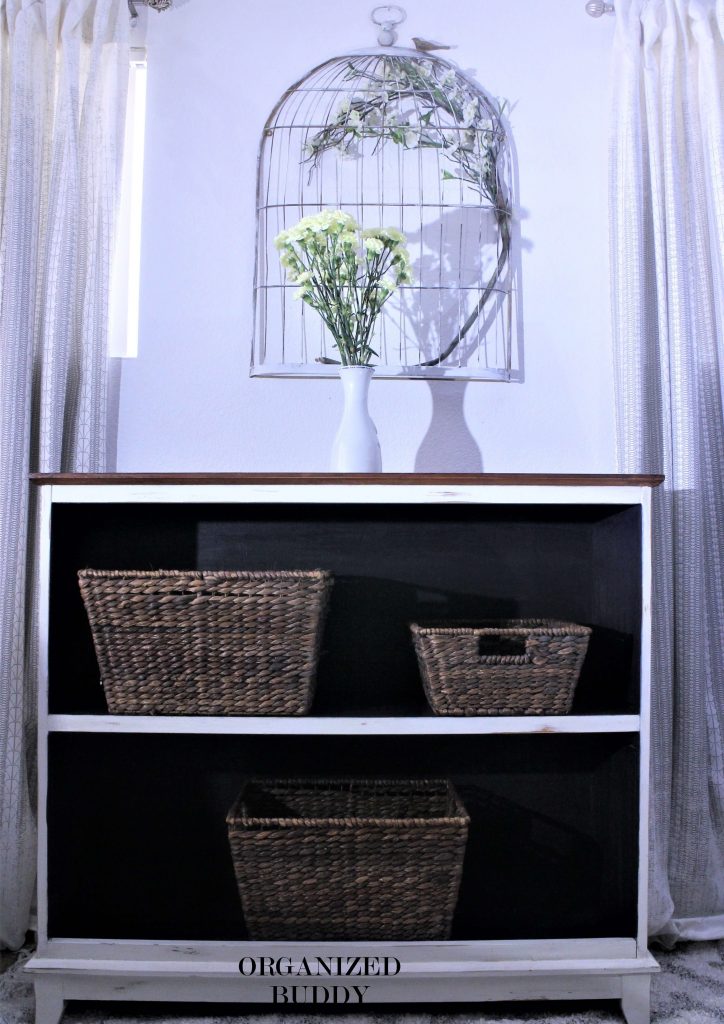 This shelf was in serious bad condition. I revamped this cabinet using homemade chalk paint. Find the recipe and video instruction on how to make your own chalk paint, right here.
The glass door on the shelf was broken and the wood color was an unpleasant orange tone, yikes.I stained the top of the shelf in a walnut color and painted the inside in rich black and the outside in ultra snow white.
I distressed this piece in areas where you would typically see signs of wear.
Wood Furniture Art : Not like Grandma's Desk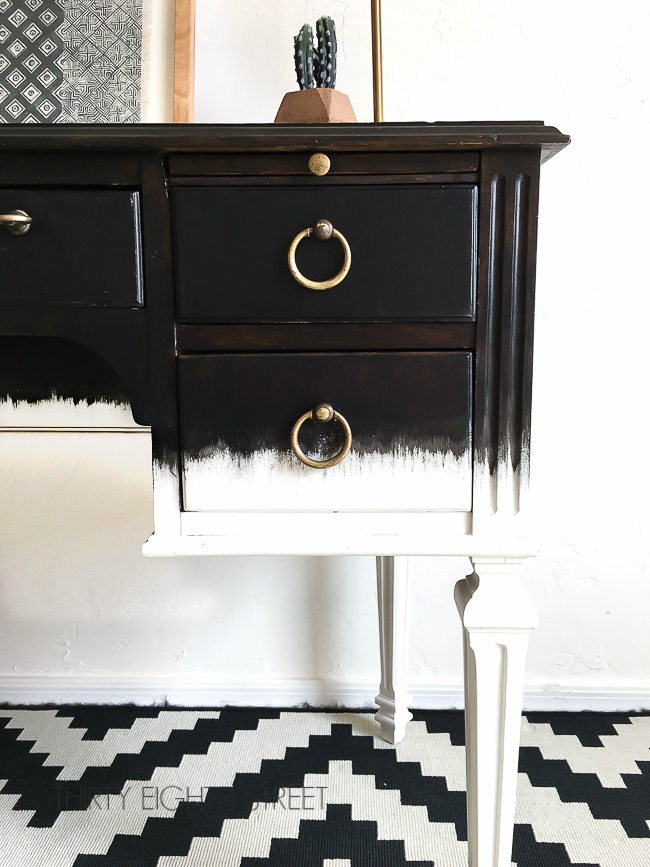 Source: www.roccocommunitysummit.org
This piece definitely doesn't look like grandma's furniture, now does it?  By layering paint, you can transform an old desk into a work of art.
Black Chest of Drawers

Remember when rooms were filled with matchy-matchy wood decor? These days, mixing different wood shades adds variation, which makes a space more visually appealing. This look is simply irresistible.
Shabby Chic Cabinet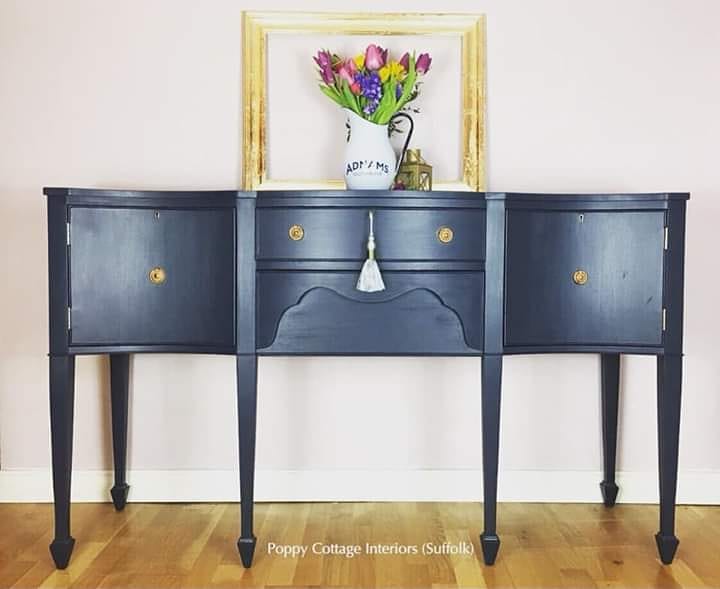 Source: www.instagram.com
Black furniture with gold drawer knobs gives an elegant feel to your space. Adding in touches of gold in the room also warms up your space while incorporating luxurious feel to your home.
Vintage Dresser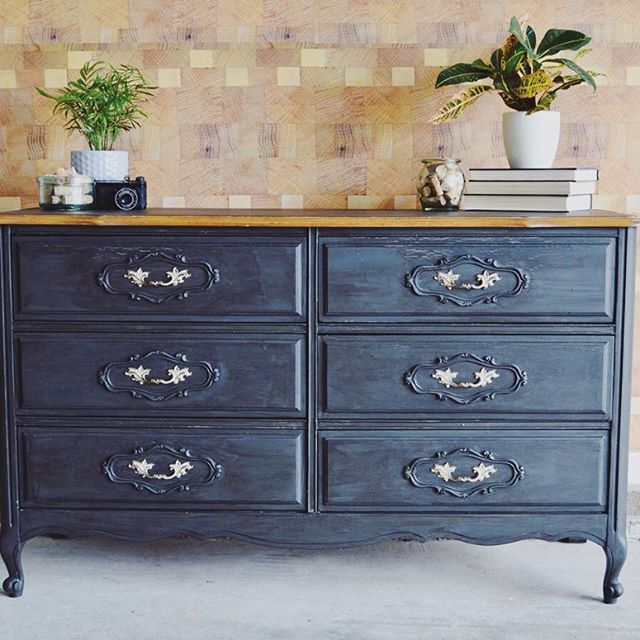 Source: www.instagram.com
Love the ornate designs on this piece. This dresser is both wood stain and paint, which complement each other nicely. Need help choosing which wood tone to pair with a paint color? Check out these tips to find the best paint colors and finishes to complement your wood furniture.
Charming China Cabinet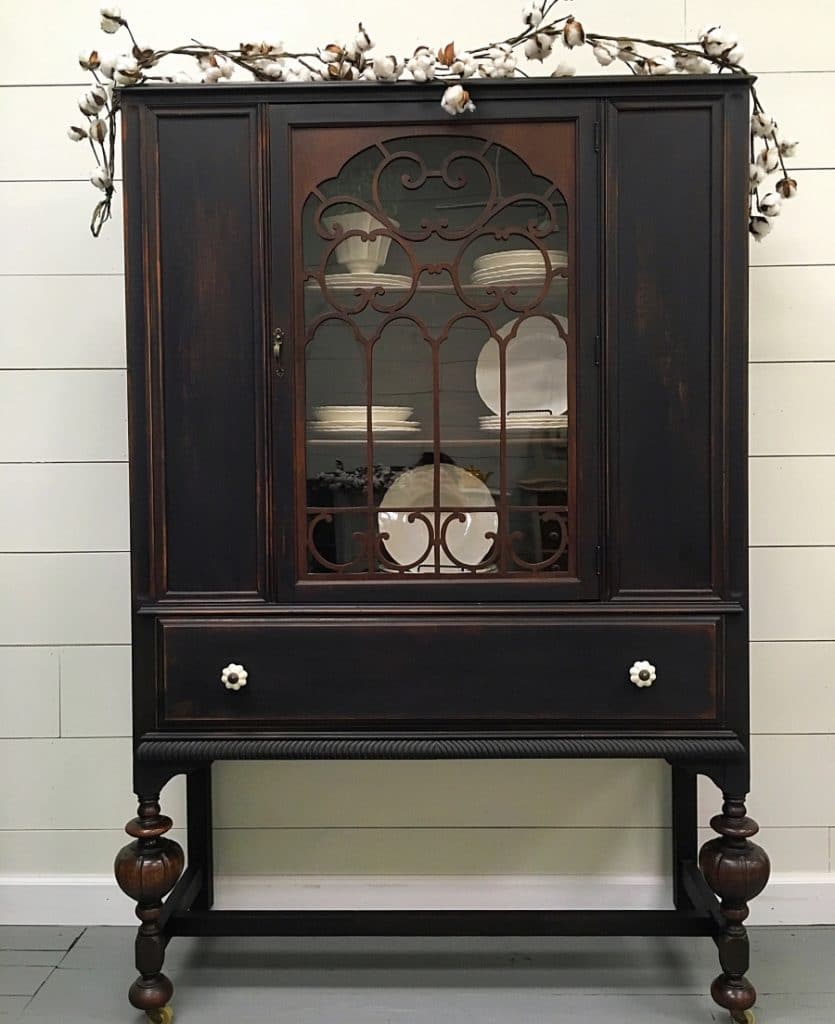 Source: www.generalfinishes.com
Painted with black milk paint and stained with mahogany gel stain for a charming feel.  The White knobs really stand out against the the dark painted cabinet.
Rich Black Cabinet with Magnolia Wallpaper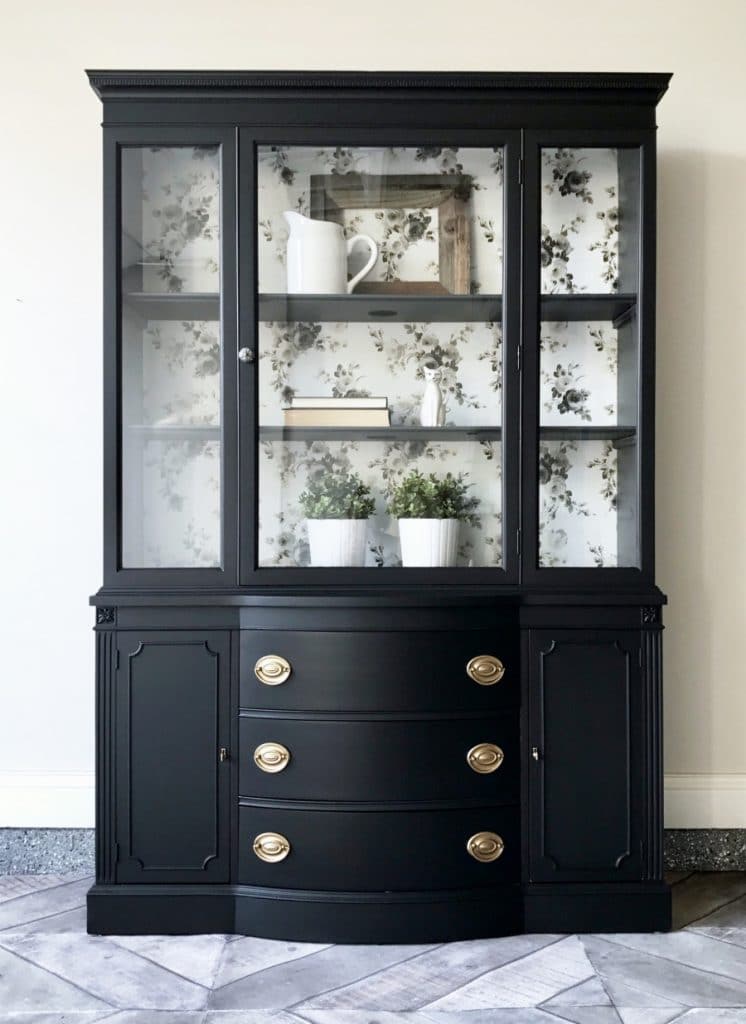 Source: www.contest.generalfinishes.com
Rich true black color for a timeless appeal. This gorgeous Magnolia Home wallpaper tones down the black cabinet by adding lighter tones. 
Antique Buffet Sideboard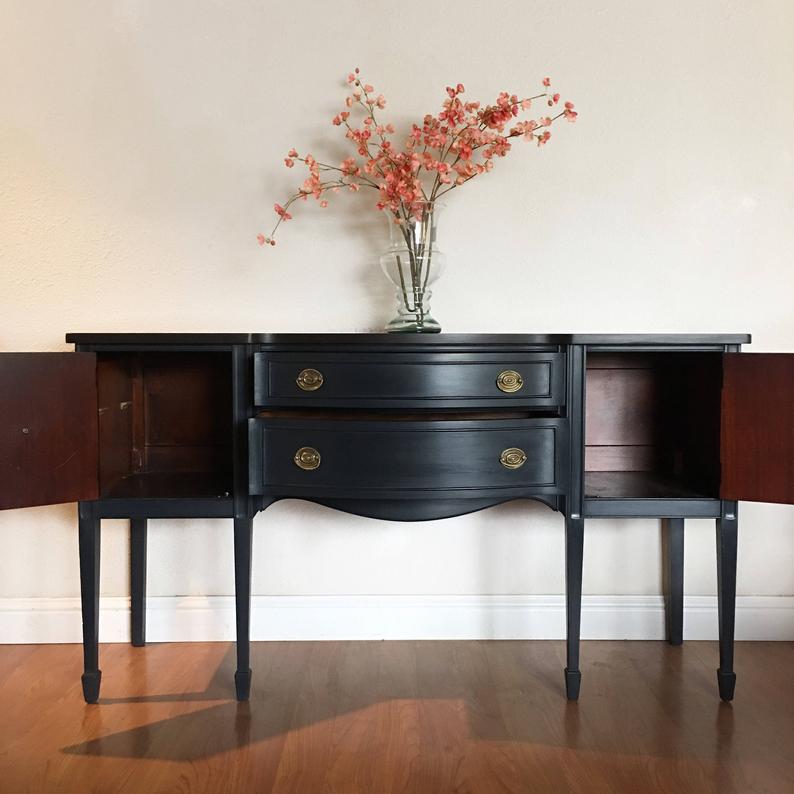 Source: www.etsy.com
Enchants with its style and functionality. Florals are an inexpensive way to add unexpected pops of color in your home, while adding freshness and visual texture.
Charming Table & Mirror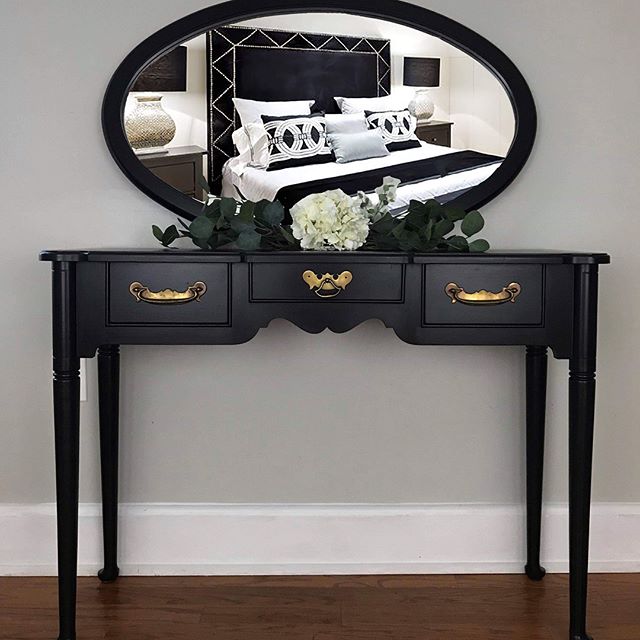 Source: www.paintedfurnitureideas.com
Elegant and bold table with gold hardware is an eye catcher. Black and gold really amp up the glam factor in this otherwise neutral space.
Black Painted Buffet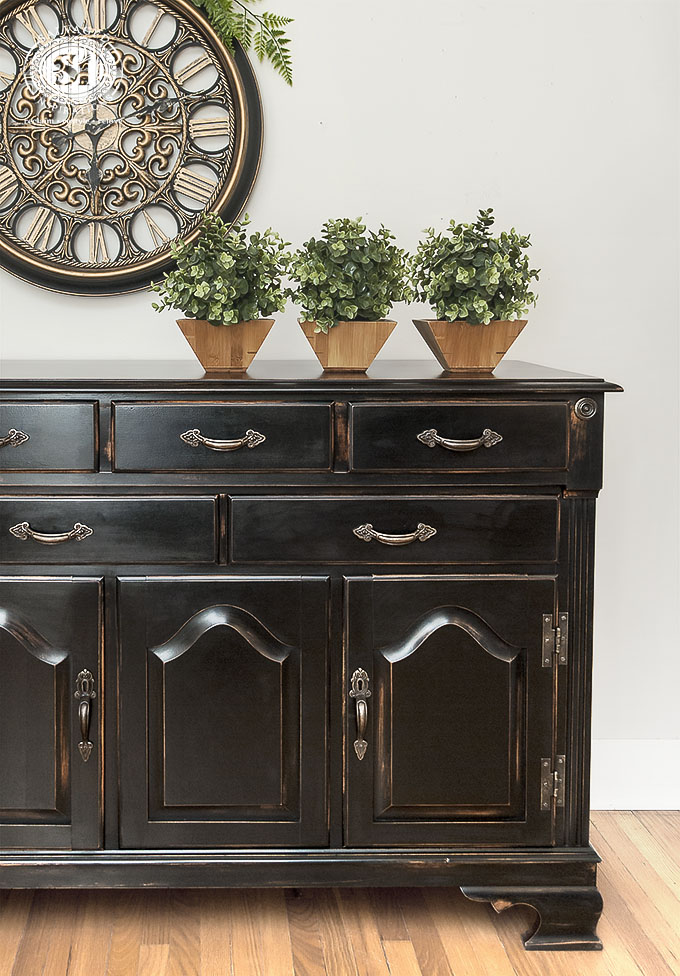 Source: www.https://roccommunitysummit.org
Rustic black painted furniture paired with greenery is fresh and energetic. Simple touches of greenery bring spaces to life.
Black Desk with Vibrant Splash of Color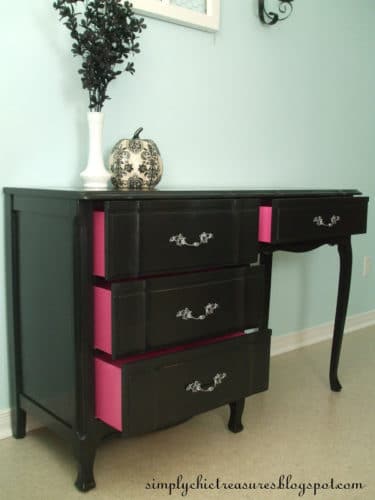 Source: www.paintedfurnitureideas.com
Adding a splash of color to your furniture drawers is a creative way to add color without being too bold.  If you aren't comfortable using strong hues in a big way, start small with key accessories, like pillows and rugs that can be switched out for either a season change or simply for a mood change.
If you have an old outdated piece of furniture you've been dying to revamp, I would love to see and share it.
As I always say, "the possibilities are endless". Have fun painting!