Check out how easy it is to recover a dining chair cushion and update your living space. This easy change will transform your space!
I'm going to recover a chair seat that's in pretty good shape, but the blue fabric doesn't go with our decor, so I am ready to freshen up our space with NEW fabric!   
If you only have one layer of fabric that's in good shape, you can recover over the existing fabric layer, but If your chair has two or more layers of fabric already, I would remove the extra layers. If you have too many layers of fabric on your seat cushion, it can make it difficult to reattach chair to its base.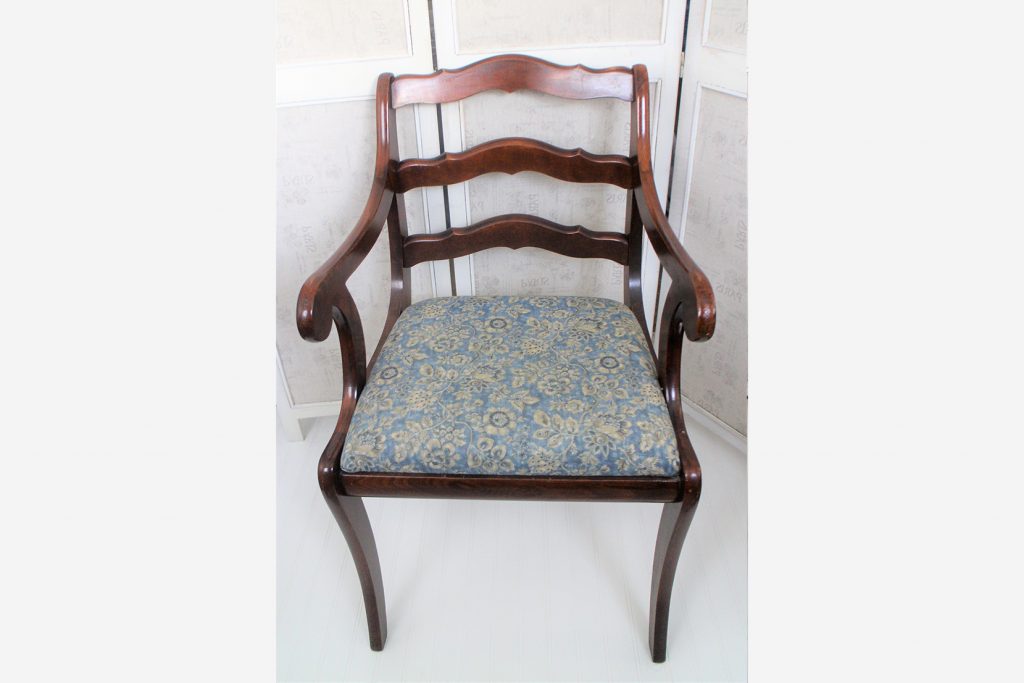 MATERIALS NEEDED
SELECT FABRIC
I found chair cushion fabric by going to the Home Decor Fabric tab located at Fabric.com and found the exact fabric weight, design, style, and color I needed for this project. (I was seriously unsure about ordering fabric online because I couldn't tell if it would be thick enough. (If you want to feel the fabric in your hands, it may be helpful for you to go in person.)
PREP CHAIR
Remove seat cushion from chair frame. Turn the cushion over and detach the dust cover if there is one. Remove all the staples or tacks that are attaching the dust cover.  You can use a staple remover tool like this one here  to remove the staples.
Tip: keep your screws in a baggie until project is complete. You would be surprised how easily you can lose small screws while tackling small projects like this. Remove old fabric layers and staples if necessary.
CUT FABRIC
Place lined seat frame face down on fabric. Trace 3-4 inches out from edge of cushion around entire frame using temporary fabric pen. (it's better to have a little bit more fabric to work with then not enough. Note: Notice how I don't have three inches of fabric along all areas. Don't let this happen to you because it's difficult to pull the fabric tightly to staple onto the cushion if you don't have enough fabric.
Tip If using a patterned fabric, appropriately position the design on the seat cushion.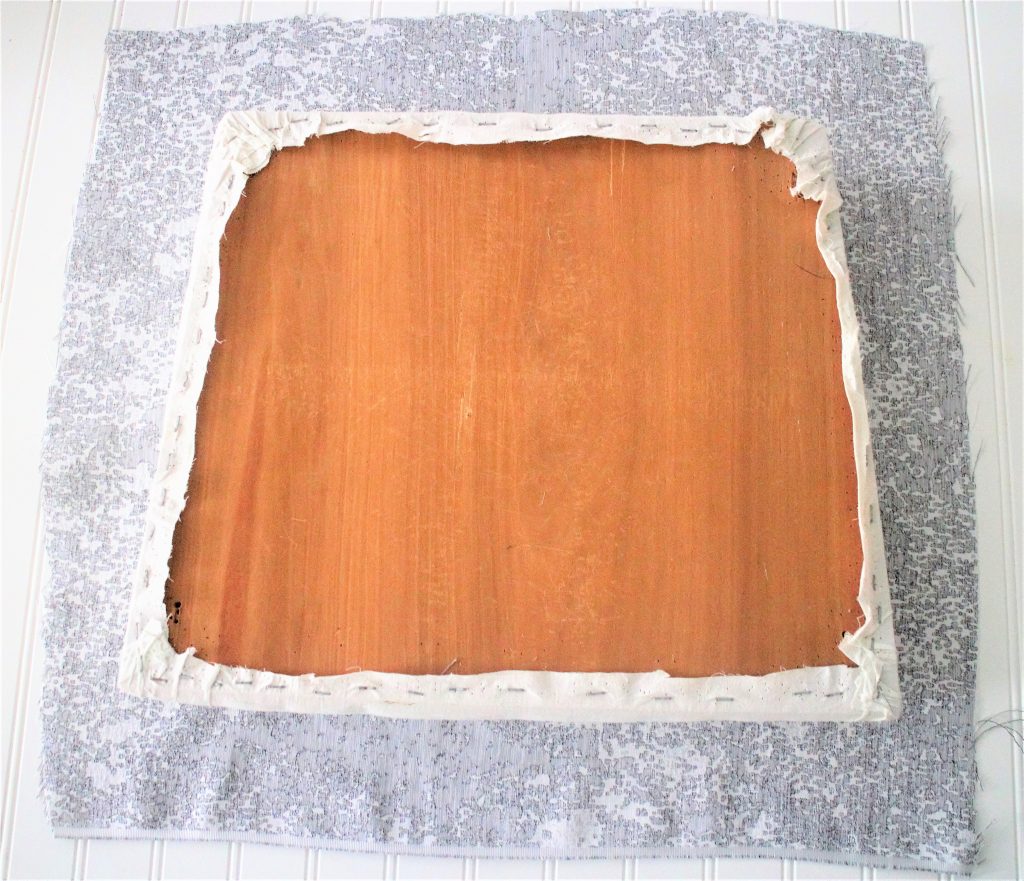 STAPLE FABRIC TO CUSHION
Place a staple in the middle of all 4 sides.  Next, on each side of cushion, staple from the center towards the corners. Leave a few inches at the corners. Run your hand over the front as you go to tighten the fabric.

If your initial center staple is too loose, just remove it and staple again.

For the corners, pull the center of the corner towards the middle and staple. Fold over one edge and staple to form a pleat. Then fold over the other side to form a second pleat. Repeat for all the corners.

ATTACH DUST COVER (Optional)
To hide the wood and fabric raw edges underneath seat, you may want to attach a dust cover to the seat dimensions and attach to the underside- It's not necessary but, if you're lookin' to get into the biz of flippin' furniture, a dust cover gives the piece a finished look. Check out this DIY Guide if you want to attach a dust cover.

ATTACH SEAT CUSHION
Once you have finished securing the fabric, your upholstered dining chair is complete! Reattach the seat to the chair base. Use the screws that you saved to reattach the chair to its base.
This is an affordable way to easily update your living space!