Discover the many fun ways to use Chalkola chalk markers for your next project.
I love DIY projects that are not only fun, creative, and colorful, but I also like to discover DIY projects that provide great solutions and solve problems.
Since I enjoy organizing spaces, of course I discovered a great use for Chalkola markers in the kitchen. If you love things creative, crafty, or even slightly organized, this post is for you.
I discovered that chalk markers are also really fun to use, and I'm excited to show you some ideas that you can try too. I'm very pleased Chalkola reached out to me and sent me a variety of chalk markers to try on various projects. 
If you want to try these out too, Chalkola is offering all Organized Buddy readers a 10% off your purchase, yay! Use Coupon Code BUDDY10 on their website. Markers come in bright colors, metallic AND even earthy muted tones which you usually don't find. I also love how you can write a very smooth, vivid line with ease.

SUPPLIES USED FOR PROJECTS
1.)  LABEL GLASS JARS WITH YOUR FAVORITE COLOR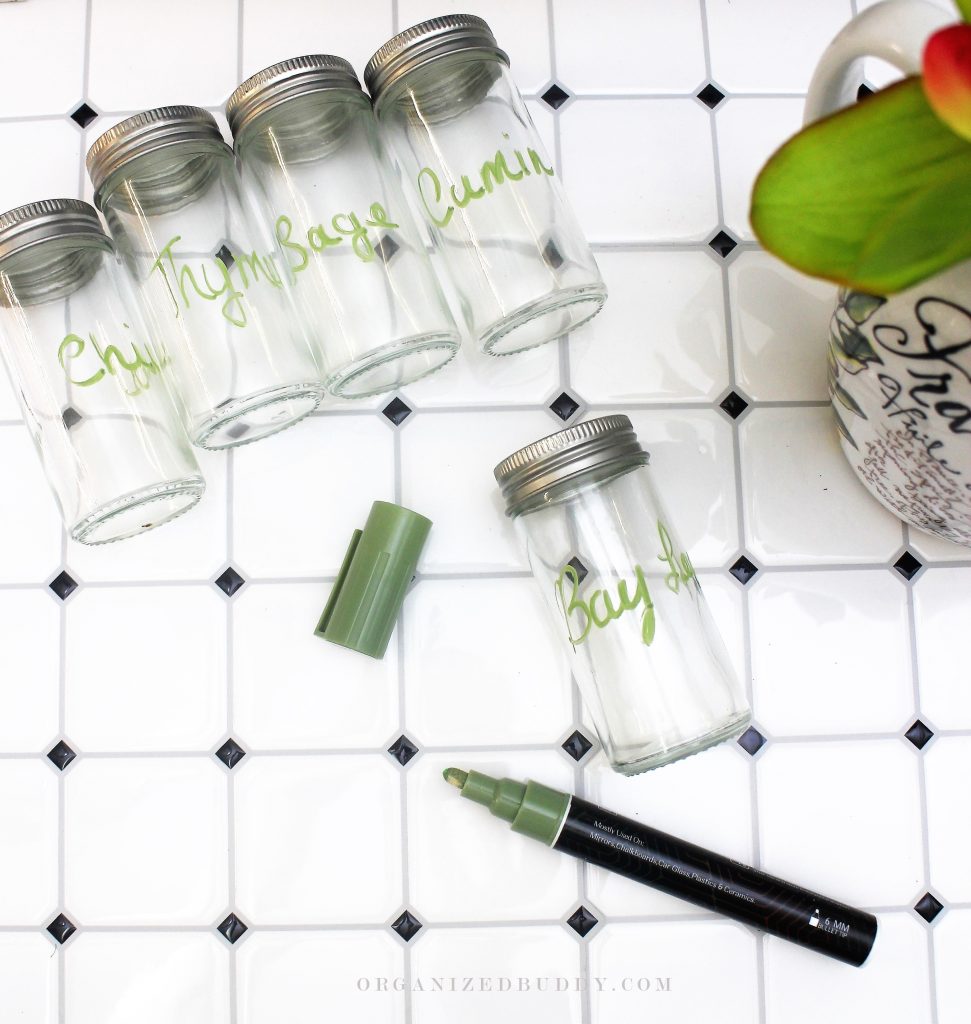 A great way to keep a kitchen pantry, or craft room organized is by labeling the contents in jars and containers. It looks decorative and it's an easy way to keep track of items.
Here's an example of how I like to label glass jars. You may have some jars like this around the house that you can try, too.
I tried Chalkola markers on a variety of glass jars. I'm very pleased that the writing doesn't rub off unless you wipe it off with a damp cloth.  It's important to note that these markers work best on non-porous surfaces such as glass, whiteboards and chalkboards.
I prefer to use these markers on both types of surfaces because sometimes I don't want my chalk color to come right off. So, its helpful to understand the best way to use these markers for the intended use.
2.)  USE CHALK LABELS ON JARS AND CONTAINERS
I love that I can use a variety of colors to label my jars besides a standard white color chalk pen. I also noticed that the ink doesn't easily come off unless I  wipe it off.
The white chalk marker that came with my labels that I purchased didn't stay put on my jars and the line wasn't vibrant or smooth.  I discovered that not all chalk pens are the same. I really love how the Chalkola marker ink dries on the surface and stays put until I wipe it off.
3.)  USE MINI CHALKBOARDS TO LABEL HERBS IN POTTED PLANTS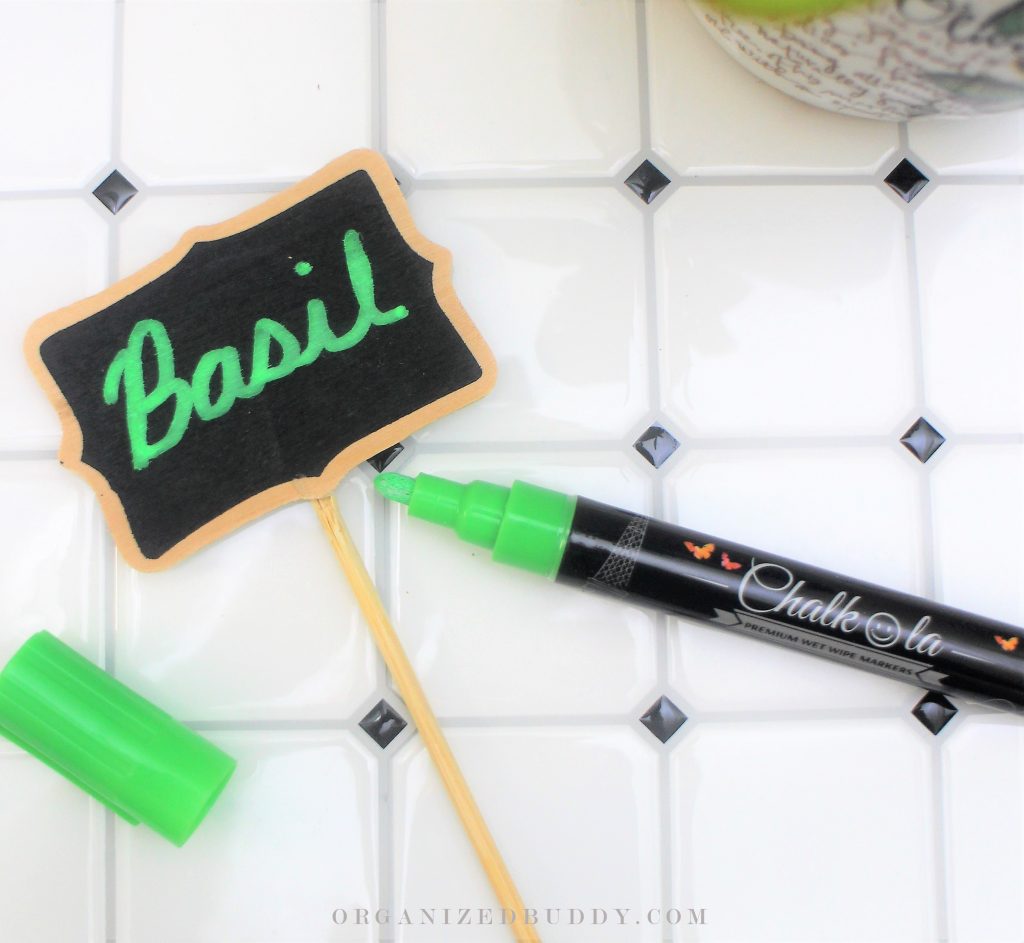 This next project would be especially fun for children and students who want to create their own garden at school or home during the summer. Label each herb and vegetable in the garden with mini chalkboard signs. I can't wait to get my herbs all labeled with these cute, vibrant colored signs.
4. ) CREATE DESIGNS ON CHALKBOARDS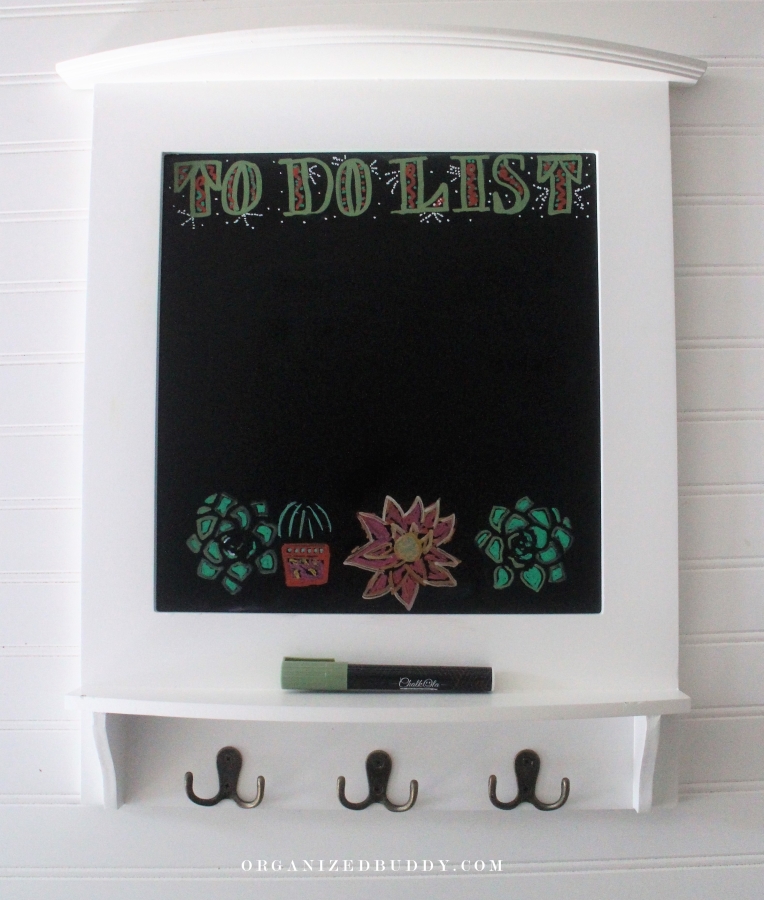 I love to discover decor that not only looks attractive, but also provides a useful function.  I found a great deal on this chalkboard shelf for the kitchen and it works beautifully with Chalkola markers. 
I wanted to bring some color and style to the kitchen, so I created my own letters simply by going to dafont.com. You can type in the phrase you want and it will show you an example of different font styles. You can print off a sheet of your favorite font and then learn how to write that font by tracing over it.
There are also font books you can buy, but I love to use dafont because it's FREE and you can type in your exact word or phrases!  I seriously only spent about a total of 20 minutes looking through the font options and then going right into creating my own letters on my chalkboard.
I wanted to brighten up the kitchen with Art, so I found these cute cactus stencils here. I used the cactus flower stencils for the outer flowers and did a free hand flower in the middle. The colors blend exceptionally well– I realized it was easy to create colorful designs on my own without stencils.
I like to keep a mini size spray bottle next to my chalkboard filed with water.  When I'm ready to create a new design, I can just spray my cloth with water and wipe off. Baby wipes also work great, too.
 

6.)  MORE FUN IDEAS TO TRY USING CHALKOLA MARKERS!
Bring to school to offer children more creative options in the classroom. 

During the holidays, get the whole family involved and design a festive display on the windows.

Mark meals during the week on a menu board.

Write down chores during the school and summer months. ( I'm looking forward to trying this one. 🙂

Write on car windows.

Use on paper or watercolor paper (markers blend very well giving you new shades of color).