After using Annie Sloan's Chalk Paint, I was determined to find the BEST Homemade Chalk Paint formula for a cost efficient alternative. You will love how easy it is to make it yourself. I've painted many pieces of furniture using this recipe and love the results. The beauty of using the original Chalk Paint by Annie Sloan as well as other recipes that have a chalky texture is that it can be applied to many surfaces with minimal prep work.

---
 

LET'S GET STARTED! 
Click here to watch the video!
You will need the following materials to make your own paint.
Measuring cup

Paint stirrer

Water

Latex Paint

Container to mix your paint
CHALK PAINT INSTRUCTION
STEP 1.
Add two tablespoons of calcium carbonate and one tablespoon of water and mix well. You can find calcium carbonate online. I purchased a bulk size from Amazon because it received great reviews.
STEP 2.
Add one cup of latex paint to your calcium carbonate mixture.

Stir thoroughly until combined.
I like to use the small trial size latex paint from Home Depot or Lowe's or the quart size for larger projects. You can choose any color from their color sample chart and they will make you a sample size in the color of your choice.
Sherwin Williams and Behr paint both mix well with the calcium carbonate. When I tried Valspar paint, it left clumps in my mixture when mixed with the calcium carbonate. I tried painting a piece of furniture with this paint and it left small clumps on my furniture.
STEP 3.
Put your lid on your jar if you're not ready to paint. I've stored my paint for up to three weeks before painting a piece of furniture.
NOTE: You can always add more or less calcium carbonate to suit your taste as well. If you want a more chalky finish, then add more calcium carbonate. Have fun experimenting! 
2 tbsp calcium carbonate
1 tbsp water
1 cup latex paint
Add 2 tablespoons of calcium carbonate to jar.

Add 1 tablespoon of water to calcium carbonate mixture and stir well.

Add 1 cup latex paint to mixture and stir well
If not ready to paint, store paint in a sealed jar.
Happy Painting!
I like to label my jars with Chalkboard labels.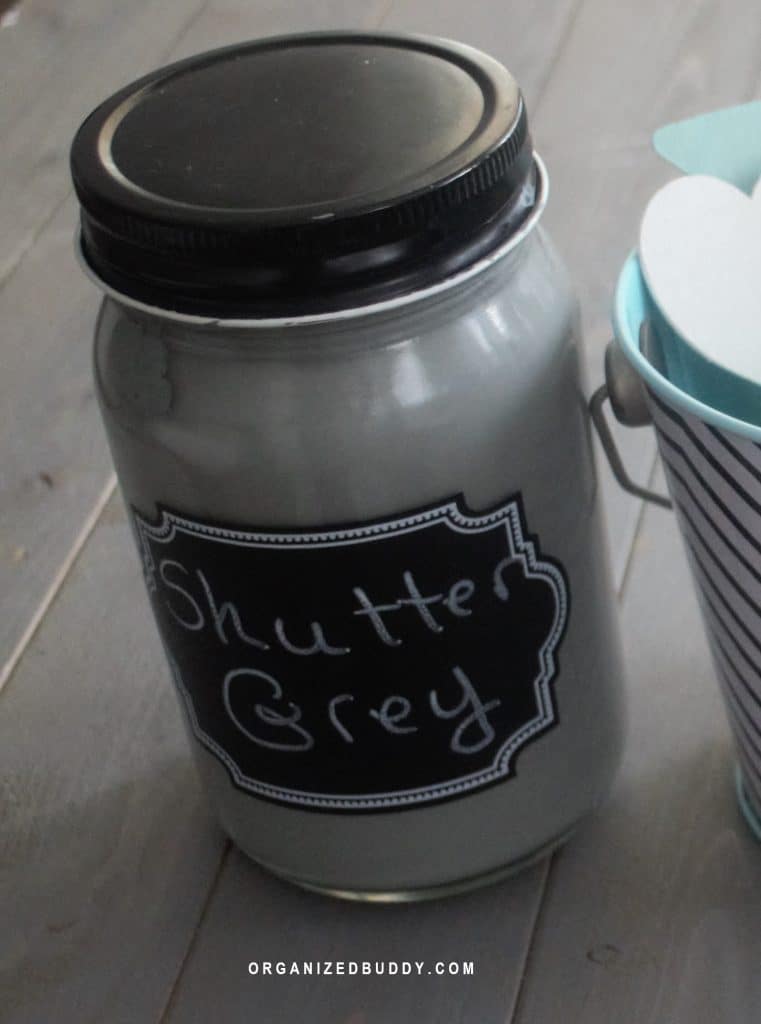 It's also helpful to keep track of the different colors so that I can reference them for future projects. I like to paint popsicle sticks and label the color that I used.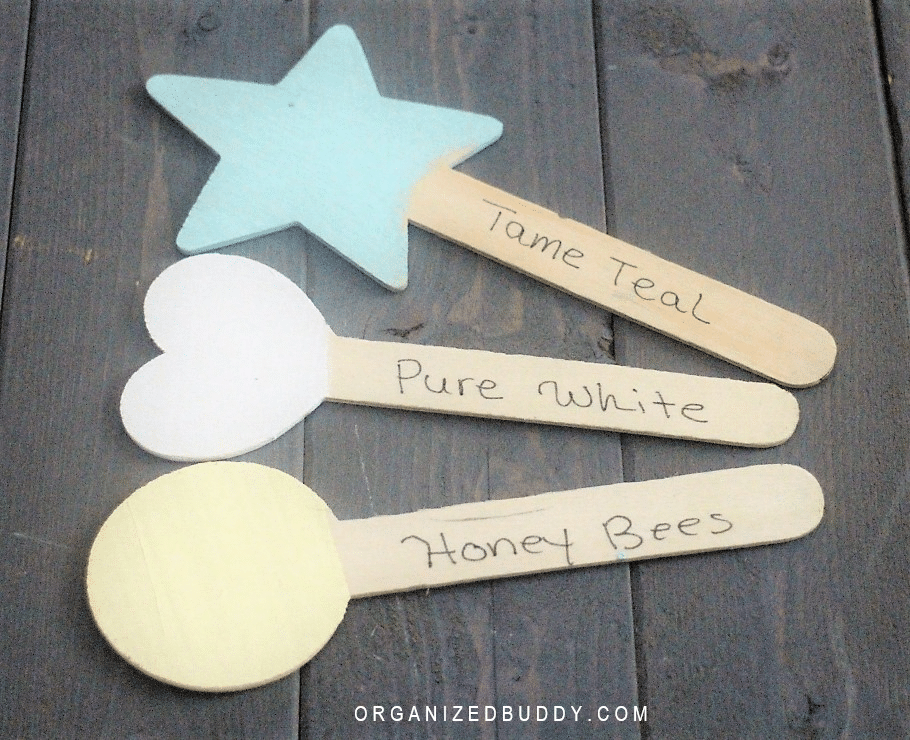 Continue reading if you would like to see some examples of how I used this homemade chalky paint. 
Nightstand Makeover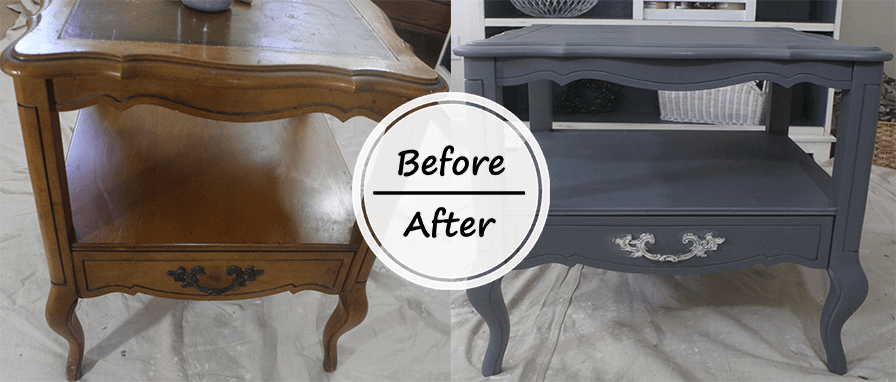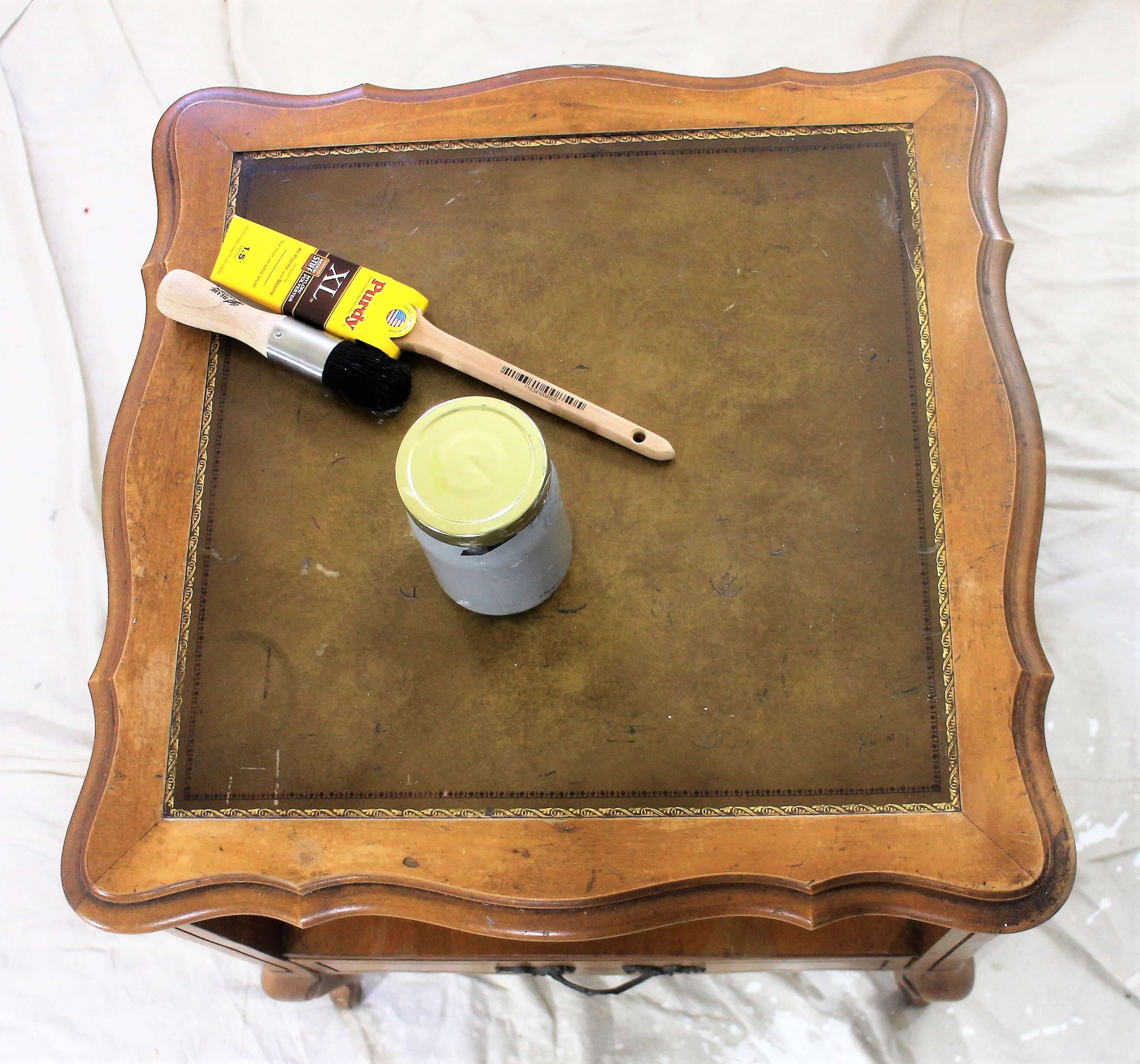 This is what it looks like after applying one coat of paint. I like to apply a thin coat and then let it dry and apply another coat. I usually like to apply three coats to the top surface for extra durability and two coats of paint to the rest of the piece.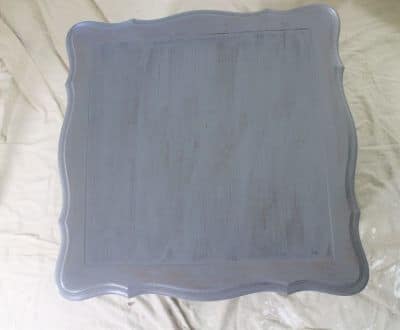 Here is the finished nightstand.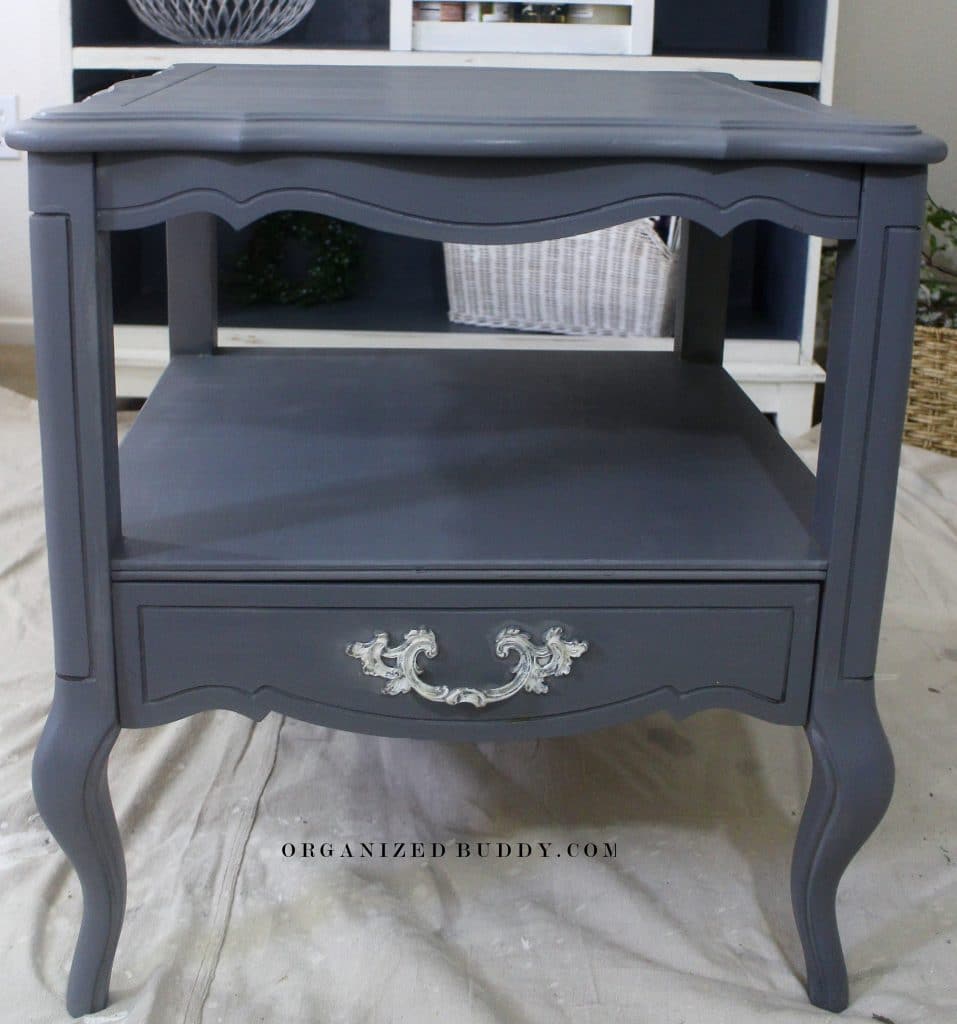 The next example is a shabby chic makeover. This is one of the first projects that I tried using homemade chalk paint– and after seeing the transformation, I was seriously hooked on furniture makeovers! I never planned on sharing this online, and I unfortunately don't have a pic of what it looked like before. I will tell you, it is shockingly different from the after photo you are about to see coming up next.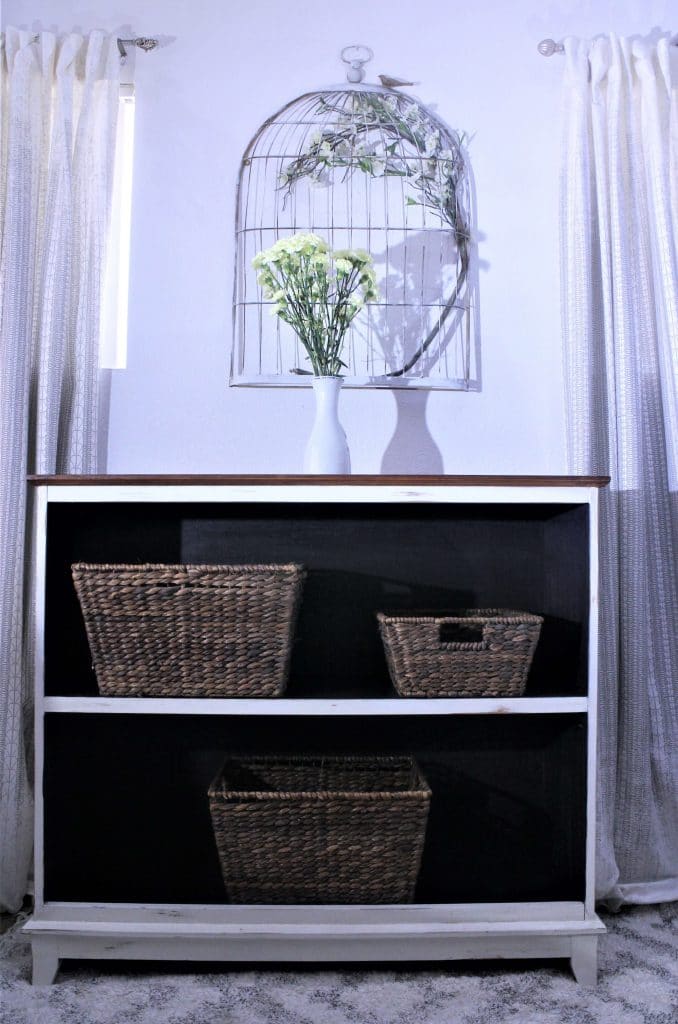 This was one of the very first pieces I painted using homemade chalk paint. The shelf had a stamp on it "made in Brazil" and the wood was a strong orange/brown tone. The color of wood didn't match any of my other antique wood pieces, so I took a chance on this project and painted it. Also, the glass bottom door was broken. I took out the broken door and painted the inside black and outside s crisp white. I stained the top in a rich mahogany tone and added a top coat to protect it.
Here is another example of how I used this homemade chalky paint recipe. Click Here to see how I painted this desk using chalk paint.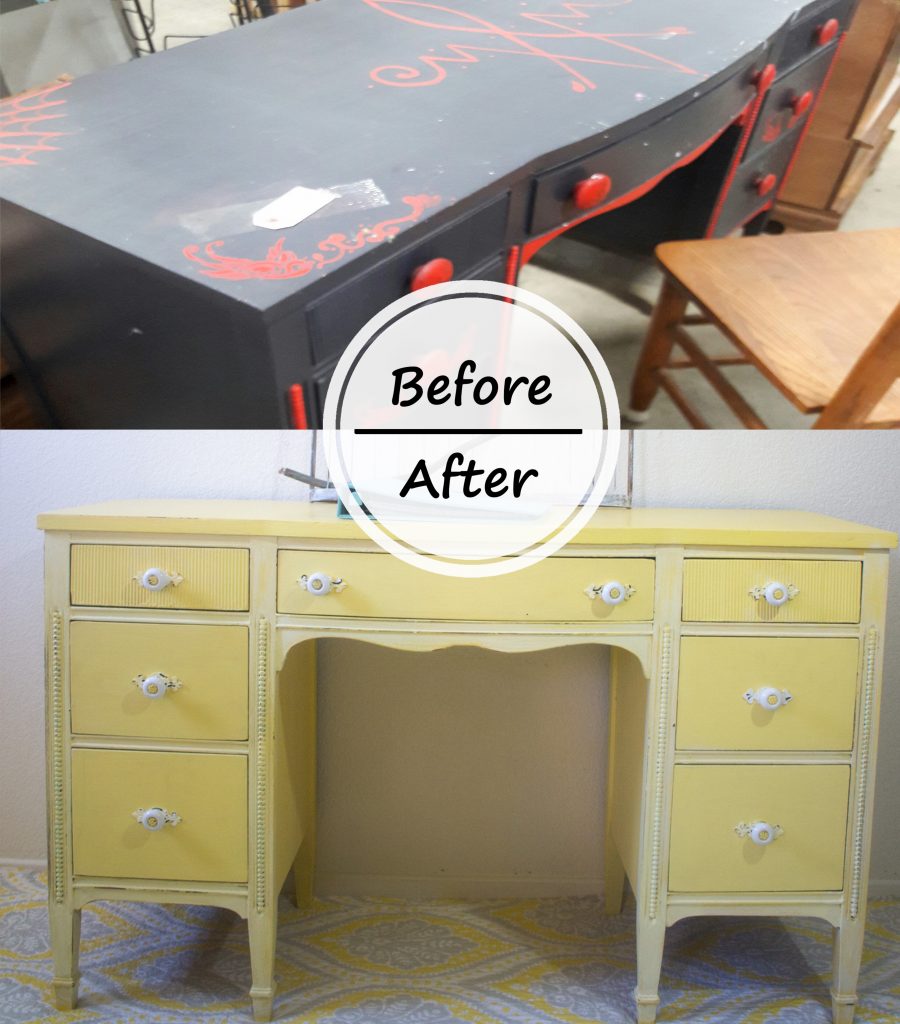 I applied three coats of paint to this desk for extra durability and followed up by protecting my piece with Varathane instead of wax for extra protection. I prefer Varathane over other products because some polyurethane brands add a yellowish tint if I'm painting with white paint or other light colors. Painting with white paint is a challenge as most pieces will turn a yellowish tint over time if using a polyurethane.
I LOVE to be inspired by others as well as to inspire. Have fun painting and creating!